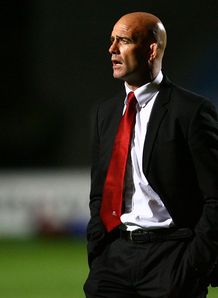 Related links
Teams
Former All Blacks coach John Mitchell believes he can turn things around at struggling Sale once he accepts Steve Diamond's offer to return to the club.
Mitchell watched Sale's 33-18 loss away to Montpellier in the Heineken Cup last weekend and all the indications are he will be back on board to help the Sharks in their bid to move from the bottom of the Premiership table.
Mitchell hinted that when he returned to the Sharks he, rather than director of rugby Bryan Redpath, would be calling the shots at the club.
"I am totally confident we can turn it around," he told the Manchester Evening News.
"The players are more than capable of turning it around. I back myself in situations like this.
"They are not situations I'm afraid of but they do require leadership and this organisation right now, along with Steve Diamond, requires leadership.
"It will be about the leadership and Steve is providing that right now and there's already probably been a change in attitude as a result of some readjustments.
"Teams can only have one leader and we'll determine that when that time is right but the team certainly won't have two leaders.
"In saying that it doesn't matter who takes the credit, it's all about working together and putting egos aside and servicing the players towards a common goal.
"Everyone has got to take accountability but there's no revolution here, it's about evolving.
"I'm not in the job to look backwards, I don't know anything of the past there and I'm not in the job of making illusions about what Christmas will look like.
"You've just got to deal with one game at a time and get the preparation right and, ultimately, if I do come here, that's what I'll be doing."
One of the factors delaying Mitchell's arrival at Sale is his ongoing legal battle with the Lions.
Mitchell is working on securing a severance package after he was suspended from his position as head coach with the Johannesburg-based outfit following a player revolt.
That has added to his reputation for being a fearsome taskmaster, something which Sale's players will experience in due time.
"I'd like to think that I'm strong but when you're a strong coach you're either seen as a freedom fighter or a terrorist," Mitchell added.
"At the end of the day, you've got to have some uniqueness as a coach. Coaching is an art with a lot of science to it these days and every coach has a different way of doing things and I make no excuses for my leadership.
"At the end of the day, I'm not employed to be a manager, I'm a leader and I feel that I can get the best out of people and I challenge people.
"I've been at the highest level and if people are not prepared to shift in their actions then I'll go and find somebody else - that's the way it works.
"But, in saying that, I'm also prepared to work through with a player but ultimately that player is going to have to grow a self-awareness to become a better player - that's what the programme is all about."